Creative Community Engagement Process
'We Are', the longest panoramic mural in India, located in Chennai Tamil Nadu, spreads the message of shared humanity and depicts portraits of people with or without AIDS, and how they deserve an equal place in society with dignity.
Community Engagement Goals
This project aimed at including the patients' stories in order to understand the stigma they suffer in the society. Stories of being rejected in the society and being socially outcast still continues to be a reality for most of AIDS patients.
The stigma lingers in schools, HIV positive students deal with rejection on a daily basis. Patients volunteered to share their story in order to make their stories reach people and create better places for the future generations to thrive and live.
The aim of the project was to spread awareness surrounding issues ranging from treatment to education, to change the mindset of the society and accept the fact that every patient should have equal opportunities for education, job and lead a healthy and dignified life.
Methods of Community Participation/Engagement
The artists of the St+art organization aimed at portraying several diverse faces, of both AIDS patients and those who do not suffer from it, in order to create a sense of equality and belonging. Artists created portraits out of people they photographed. Abstract background with the characteristic red ribbon of the AIDs campaign created a strong visual and conceptual connection to the mural.
Creative Goals/Outcome
Urban Art Mural with St+Art organization and Asian Paints, was effective as it aimed at creating a long-lasting impact in generating HIV/AIDs awareness among the commuters.
The aim was to connect Urban Art as an effective response to global crises, and a tool to deliver messages of awareness, feelings of longing or loss and ideas of hope.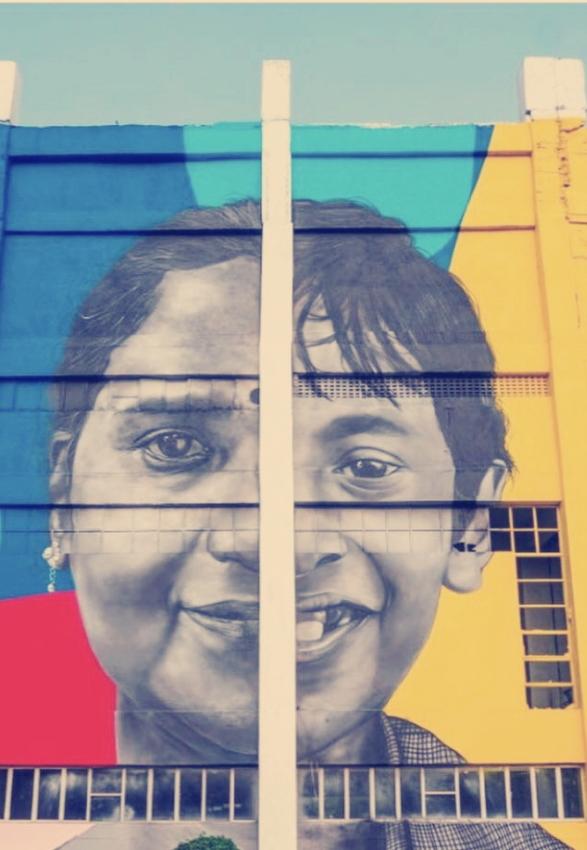 The campaign was completed by adopting the walls of Indira Nagar Metro Station stretch which is approximately 49,500 square feet and opposite to Rajiv Gandhi IT Express Highway Road, the largest IT corridor in Chennai which is also near to Tidel Park, the IT hub. On an average, 50,000 commuters travel in the above area to reach their work place in Tidel park, this project would have gained enough momentum to convey the message of social stigma which the HIV patients go through.
Designed in collaboration with Chennai based artist, A-Kill and Delhi based Bykhatra, St+Art, India, Tidel Park, Southern Railways And Asian Paints. This project has been initiated by Tamil Nadu State AIDS Control Society (TANSAC) in collaboration with Tidel Park, Southern Railways, ST+ARt Organization, Delhi and Asian Paints. The campaign portrays the elements in the line of World Aids Day (WAD) 2020 theme, 'Global Solidarity, Shared responsibility' to showcase the decreased line of new HIV infections and to enable HIV patients to live in solidarity in Tamil Nadu.
The innovative project started on 11 December 2020, in accordance with the WAD 2020 theme. It took two months to complete the Urban Art mural.
The participation of the patients who volunteered and shared their stories, made the project a success. For TANSAC, it was a happy benchmark and a big milestone, as this artwork highlighted the diverse identities and an attempt to dispel the stigma around HIV/AIDS and the people living with and affected by HIV/AIDS.